NACA Mission Statement
NACA's mission for its In-House Real Estate Team is to educate, guide, and advocate for NACA Members throughout the Qualification, Housing Search and Mortgage Process. The NACA Agent will provide an exceptional home-buying experience with a commitment to represent the interest of each Member above all others. The NACA Agent will always work with the NACA team and assist NACA Qualified Members in identifying a property and negotiating the best terms favorable to the Member, keeping them within their affordable PITI payment. The combination of the IHA and NACA counselors provides strong support for the Member in their home buying process.
Your Choice Real Estate Agent
For the smoothest and most effective purchase process, it is recommended you work with a NACA In-House Agent or Referral Agent. The NACA In-House Agent is experienced with NACA transactions and has a proven track record of working with NACA Members and adhering to the demanding NACA process and associated timeline. If you would like to work with a NACA In-House Agent or Referral Agent, contact NACA's Real Estate Department ("RED") by clicking link below. If you were referred to NACA through NACA's website by a R.E. Agent prior to you going to a Homebuyer's or NACA Qualification Workshop, you will be referred back to that R.E. Agent now that you are NACA Qualified. NACA recommends that you work with the R.E. Agent who referred you to the program if you are satisfied with their work.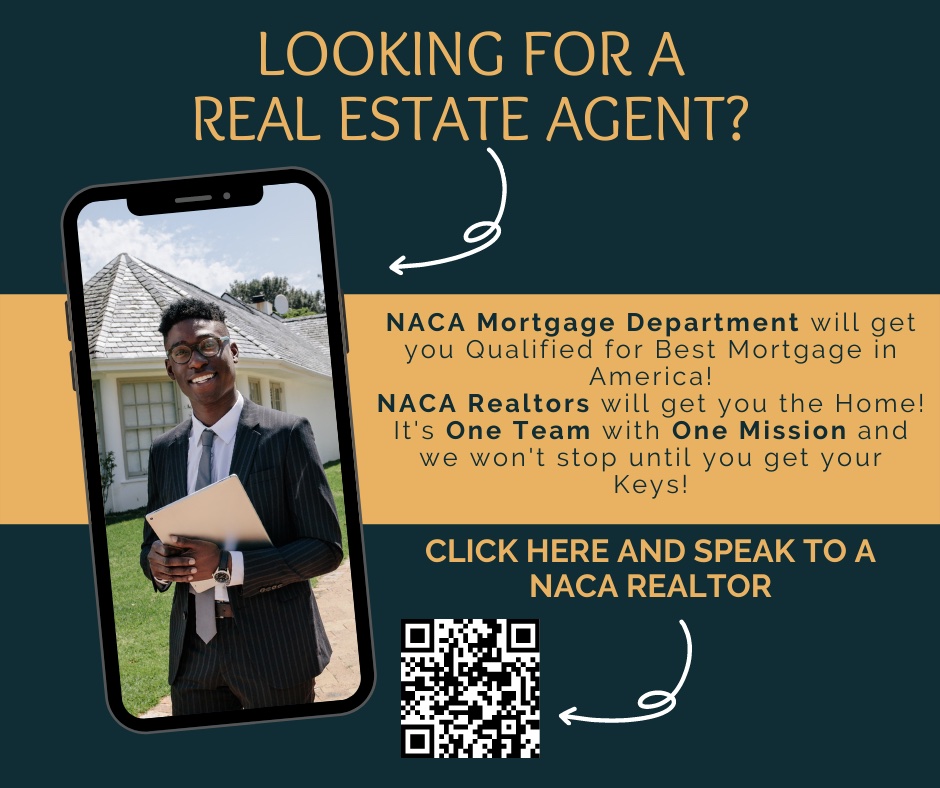 Download a free copy of the National Association of Realtors "The Guidebook for Buyers" using the button below.
Sell Your Home with NACA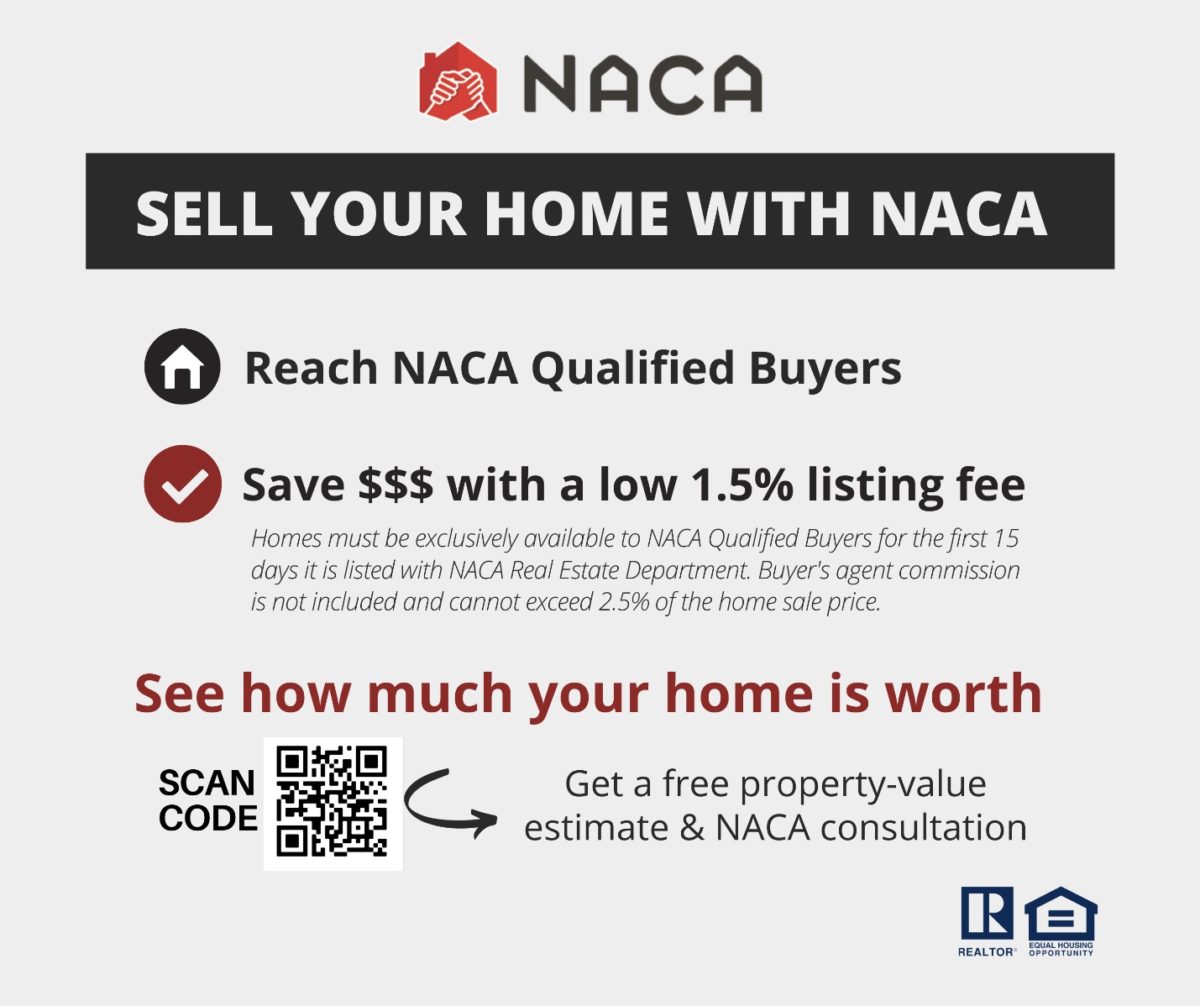 Download a free copy of Realtor.com "The Home Sellers Guide" using the button below.
The latest Agent Participation Manual
The Agent Participation Manual is the Real Estate Agent resource guide that details the housing search and mortgage process. NACA has established several requirements to ensure that the home purchased is affordable over the long term.
Agent Participation with the NACA Program
Complete Agent and client registration Instructions.
NACA Contract to Close Timelines with Detail Instructions.
NACA Transaction Forms
NACA Real Estate Training YouTube Channel
The YouTube Channel is designed to further educate you on the NACA process. It explains in detail key components to the NACA Housing Search Process. The videos can be re-watched as many times as you wish. NACA wants to make sure you have all the tools needed to make the housing search smoother and more efficient.
Please subscribe and click on the notification icon to receive notifications when a new video has been uploaded.
Community Shopping
The Real Estate market is rapidly increasing, and we want to make sure you are fully prepared and more knowledgeable than the average buyer. As NACA In-House agent we work strictly with our NACA members to ensure that you are fully protected as you pursue home ownership. We firmly believe that community shopping is key to your success as a homebuyer in this extremely competitive market. Community shopping is the act of physically exploring the area and neighborhoods of the houses that interest you. Today's technology affords most buyers the ability to browse the web for their home, therefore we suggest using your In-House Agent Client Portal that is filtered directly through the multiple listing service (MLS). This will give you the ability to search in detail your desire criteria. However, with Community shopping you don't stop here!
NACA will allot 120 days for you to find a home once you receive your qualification, whereas you will have re-qualify if you surpass this time. This can be a short amount of time to make such a big decision, which is why we strongly encourage you to start now. We have provided a few links to websites to serve as an aid as you conduct your research, for we understand that you have other concerns outside of the beauty of a home. Such as:
NACA Calculator Instructions: Determine your maximum mortgage amount based on your Approved Monthly Payment. Do you need Payment Shock?
Crime Reports Websites: www.spotcrime.com, This site is great for directly identifying not only the crime in proximity to your home but also what exactly the crime is and the frequency of the happenings.
Great Schools Search: www.niche.com, The Great Schools website is a very quick and convenient snapshot of the area schools that are available for your kids to attend in the school's district of your new home. It will let you know how well the school performed and will let you compare results from other schools.
Google Earth: I love this site because I'm able to get an aerial view of the neighborhood and area before stepping foot outside. I can see if the homes are well spaced and kept up. You can also get an idea of the backyard.
newhomesource.com: this is one of the most inclusive and user-friendly websites to identify new homes.
As buyer representatives we believe that it is crucial that you are knowledgeable of the area you wish to invest to avoid buyer's remorse after purchasing. Community shopping gives you a head start to purchase a home providing you with the greatest advantage. Please do not place an offer on a home until you receive your NACA approval. Feel free to use your NACA In-House Realtor as a guide through this process.
Community Shopping Workshop Webinar
The purpose of the workshop is to give our members instructions on the NACA housing search process. It's to help give you a head start in identifying locations that are selling homes within their affordability. This will give our members a competitive edge in making a quicker decision and feeling confident in their decision.
Learn how to use the NACA Mortgage Calculator to determine your maximum mortgage amount based on your approved monthly payment.  
Learn how to Identify Priority Members.
Online house searching websites to help you feel more comfortable making your decision.  
Member can go to the NACA website and register under live webinar.
"We can help the member obtain the best mortgage in America, but, if they can't find the right home in the right location then it's not the right solution."

Bruce Marks, NACA CEO & Founder